Is my podcast advertising impacting ROI? Which content and creative approach is the most effective? Am I targeting the right audiences? Let Claritas help you answer all these questions and more.
Using a unique methodology fueled by our Identity Graph, Claritas can accurately link Podcast exposures to online and offline conversions, including CPG and Credit & Debit card purchases. These insights give you visibility into how your campaign is performing and which specific components are driving that performance so you can continually optimize for more effective ROI.
In addition to an already-robust measurement methodology, Claritas' Prefix URL has been approved by the major hosting platforms, providing for the ability to help our clients track and measure the impact baked-in ads have on contributing to conversations from podcast advertising.
With Claritas, you get a partner with expertise, experience and a white-glove consulting approach that helps you win new business and accelerate repeat business by accurately measuring your campaign strategy, across multiple online and offline channels, so you can make better business decisions.


Claritas has measured over 150 Podcast advertising campaigns, showing an average lift of 34% as compared to non-Podcast channels.
Achieve average lift across these verticals:
Automotive: +70%
Consumer Goods: +63%
Retail: +37%
Insurance: +32%
Telecommunications: +26%
User-Friendly AudienceAnywhere Dashboard
With Claritas' AudienceAnywhere dashboard you'll have seamless access to create and manage campaigns, view near-real time insights in-fight and analyze critical attribution and incremental lift reporting.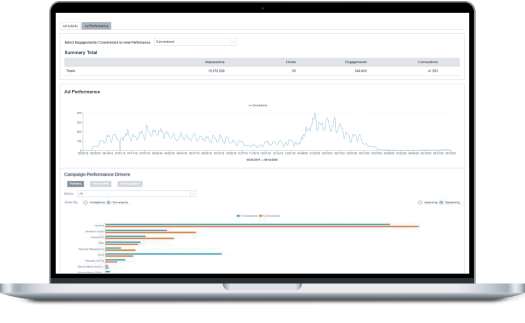 Podcast Measurement Solutions
Our advanced analytics provide a wide range of in-depth reporting on Podcast marketing efforts including Podcast Measurement. Standard reporting includes:
Campaign Attribution
Leveraging the Claritas Identity Graph, we're able to provide directional measures indicating which Podcast campaign elements including audiences, placements, shows, creatives and media partners, are driving online and offline conversions, including CPG and Credit & Debit card purchases.
Campaign Lift
Using a proprietary control group methodology, Claritas can help you accurately determine the incremental lift that specific audiences, placements, shows, creatives and media partners provided based on your campaign KPIs.
Superior & Proven Methodology
Claritas uses an attribution methodology that considers varying degrees of consumer behavior, eliminating the risk of having to make decisions based on methodology that doesn't account for the full picture. We go beyond simply Pre vs. Post analysis to determine that an audience not only heard an ad and converted online or offline, but that it occurred within a specific period. Our campaign lift analysis leverages our vast data breadth to create the industry's most accurate control groups to compare against to determine which channels are contributing to incremental impact.
Reach the Right Audiences Where and When They Engage
Our robust Identity Graph leading data solutions give us proprietary understanding of physical people, places and behaviors leveraging over 10,000 demographic and behavioral insights on every household in the

A More Holistic View Beyond Just Downloads and Coupon Code Redemptions
Optimize campaigns and continually improve ROI by understanding which tactics are the most effective in leading to both online and offline conversions across the consumer purchasing journey.

Measure What's Actually Impacting Incremental Lift
Our unparalleled understanding of the US consumer enables our ability to identify and create the most accurate control group to use as the foundation for Lift Analysis. This allows you to gain critical insights into the incremental lift in engagements and conversions that your podcast campaigns have provided.

Flexible & Customized Reporting Based on Your Needs
Claritas offers multiple reporting options so you can easily analyze campaign results and impact drivers through the lens of what matters most to you.
Analyze Through User-friendly Dashboard
Claritas provides a suite of reporting options through our user-friendly AudienceAnywhere dashboard, includin Summary Attribution Reporting, Lift Summary Reporting, Respondent Level Data as well as standard campaign metrics.
Measure All Channels in Your Media Mix
Leveraging the Claritas Identity Graph, we can measure campaign elements including audiences, placements, creative and media partners across seven additional channels including Desktop and Mobile display, In-app Mobile, CTV/OTT, Email, Direct Mail, Post Click Search/Social and other Streaming Audio.