Email is the most versatile tool in marketing. It can also be the most effective.
It's your best opportunity to have true, one-on-one interactions with new prospects or to enter into a conversation with customers to build loyalty. Turning outreach into a conversation starts with an accurate email database. Claritas has one of the industry's largest databases of high quality, compliant, and validated email addresses that's continuously refreshed to make sure it stays as up-to-date and accurate as possible. Our email services, operations and execution are recognized industry wide for their effectiveness.
Build Email Lists
By pairing our email database with our behavioral and demographic datasets, you can build high performing lists of your best prospects.
Deploy Email Campaigns
Our full-service email campaign executions feature a standard 2x deployment to your best prospects and achieve open rates and click-through rates consistently higher than the industry average.
Email Append & Hygiene
Through append services, we can tie opt-in emails to the households of your client file. With over 125 million active emails, we have the highest match rate in the industry, and we continuously refresh our database ensuring your file is up-to-date, clean, and privacy compliant.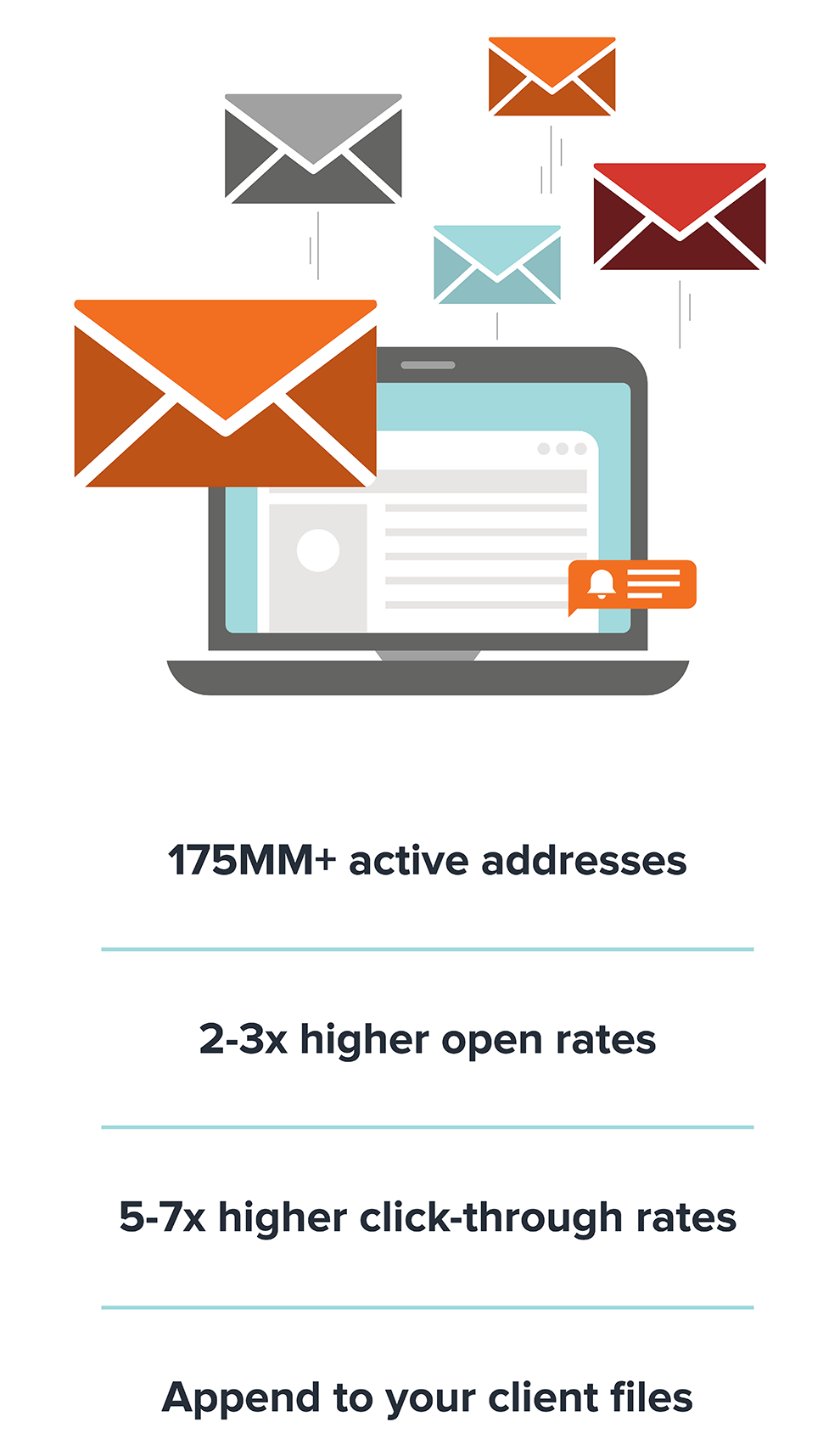 Ensure Accurate Email Delivery
We own and manage our email execution platform in-house. We do not outsource. By providing full service email campaign execution, we're able to ensure accurate delivery to the inbox.
Convert Offline Customers to Online Customers
Using just a name and a postal address, Claritas append services connect accurate email addresses, so you can reach customers online as well as offline with the right message.
Connect Email to Multiple Devices and Channels
Email is the essential link between channels, preferred devices and an individual or household. This cross-channel, cross-device linkage helps you communicate more effectively and sell smarter.
Most Compliant Email Data Available
Claritas is the leading owner and compiler of 3rd-party permission opt-in email address data. Each consumer email address in our database has opted in to receive third-party offers. As required by law, these opt-ins are fully traceable to the date and place of the action. Our partners who contribute data to us must pass a rigorous vetting process before any of their data can be included in our database.
To get more information on our sourcing, validation and compliation processes, follow the link below.
Related Resource
Using Claritas' industry-leading identity graph and robust email database, custom audiences were created and targeted based on key consumer attributes, including service and warranty histories, household income purchase behaviors, age/family, credit score and distance from dealerships.
Read More
Related Resource
Claritas helped Nutrisystem identify ideal prospect audiences using a targeted email strategy that drove 42% reduction in acquisition costs.
Read More