What channels are working best? Did human eyes see your message or was it a bot? What series of engagements drive the most conversions? Instead of pulling an all-nighter gathering data from hundreds of UIs trying to answer these questions, let Claritas do it for you.
Our multichannel measurement and attribution solutions go beyond "cross device" analysis. We unify devices, conversion environments and precise measurement indicators to truly analyze the effectiveness of your media.
Our cross-device and cross-environment attribution integrates impressions across digital display, OTT/CTV, streaming audio, podcast, direct mail, mobile and out-of-home. Conversions are captured across most advertiser websites (site visits, form submissions, online purchases, etc.), in-store traffic, offline sales (credit card purchasing and CPG shopper card data), in-app purchases and OTT/CTV viewing data. You'll have an accurate and transparent analysis showing which channels are most effective at converting so you can track and react in near-real time.
Most importantly, you'll have the insight you need to improve performance so that every marketing dollar you spend is well spent.
Follow along in this 3-minute video as we share how consumer ad exposures turn into an online or offline conversion.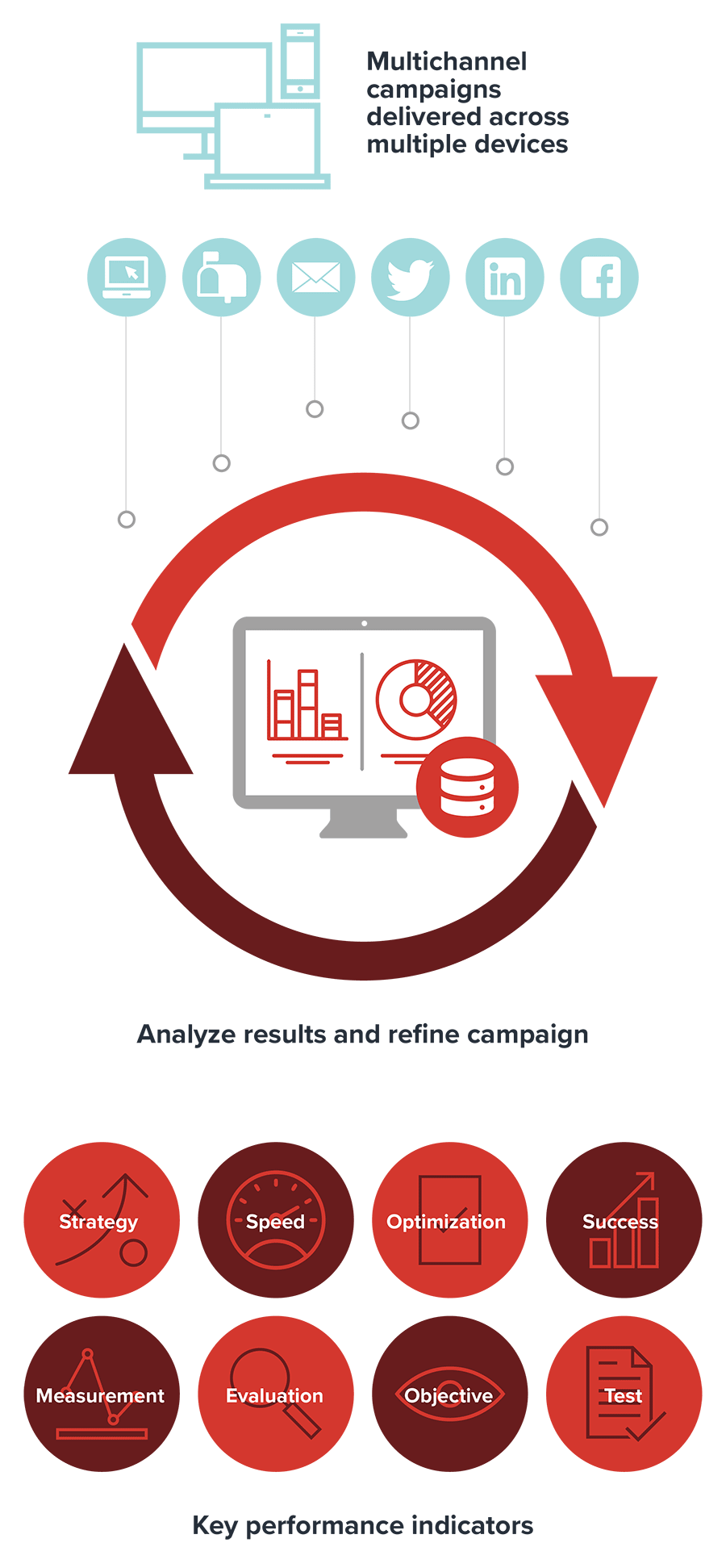 Multichannel Measurement Solutions
Our advanced analytics provide a wide range of in-depth reporting on marketing efforts including Podcast Measurement. Some of the most widely used reports include:
Campaign Tracking
Know if you're getting what you paid for. Our detailed methodology provides campaign metrics including reach, frequency, real impressions vs. fraudulent bots, clicks and engagements by audience and across 8 channels including digital, TV, direct mail, out-of-home, and podcasts.
Attribution Analysis
Know more about when, how, and if various marketing channels are moving your audiences to conversion from the first touch to last, including CPG and Credit & Debit card purchases.
Lift Analysis
Our proprietary Lift Analysis provides unequalled insight into how individual audiences, as well as online and offline channels, are impacting your ROI.
Podcast Measurement
With Podcasting advertising growing to an estimated $1 Billion in revenue in 2020, marketers are continuing to shift budget to this emerging channel but struggle with understanding how they can measure ROI on that investment. Claritas is the industry-leader in podcasting measurement and has helped marketers measure the effectiveness of the channel in the consumer's purchasing journey. Using a unique methodology, we can help you attribute online and offline conversions to podcast campaigns, enabling you to truly understand how the podcasting channel is performing on its own, or as part of multichannel media mix.
learn more
Comprehensive Attribution
By leveraging our analytic technology, you'll have the ability to accurately tie online and offline exposures across 8+ channels to both online or offline conversions, including CPG and Credit & Debit card purchases. You'll know how specific channels and devices are influencing consumers from first exposure to the final purchase.
Know What's Really Impacting ROI
By measuring against a control group, our proprietary Lift Analysis helps you know more about how individual audiences, as well as online and offline channels are impacting ROI.
Easy Access to Reporting
Get critical campaign reports including campaign Delivery and Attribution quickly and easily. Reports are completely customizable and are accessible through our dashboard. They can also be emailed to you as often as you like.
Detecting fraudulent web activity is at the core of accurate campaign tracking and attribution.