Website visitors may be the easiest way to find prospects with the most potential to become your best customers.
But over 90% remain anonymous. Some may have already purchased something in a retail store but aren't part of your CRM. Others are already paying customers that you've simply lost track of. You can find out who these visitors are in a completely privacy-compliant manner with Claritas.
Every visitor to a website leaves behind a digital trail that includes an anonymous identifier. By placing a pixel on your website, Claritas captures that information. Then using our industry-leading Identity Graph, we combine this website data with your point-of-sale data and your CRM to create a more complete profile of the anonymous visitor.
The Claritas Identity Graph helps you know even more by filling in information about each potential buyer, including household information and demographic data, along with information on the ideal channels you should use to reach him or her. The result is a high-def portrait of your once anonymous visitors.
Then, using both our proprietary segmentations and Identity Graph data, you can compare these visitors with the demographic data and buying behavior of your existing customers to figure out who are the most likely to buy—retargeting the best with personalized messages on the channels they most prefer.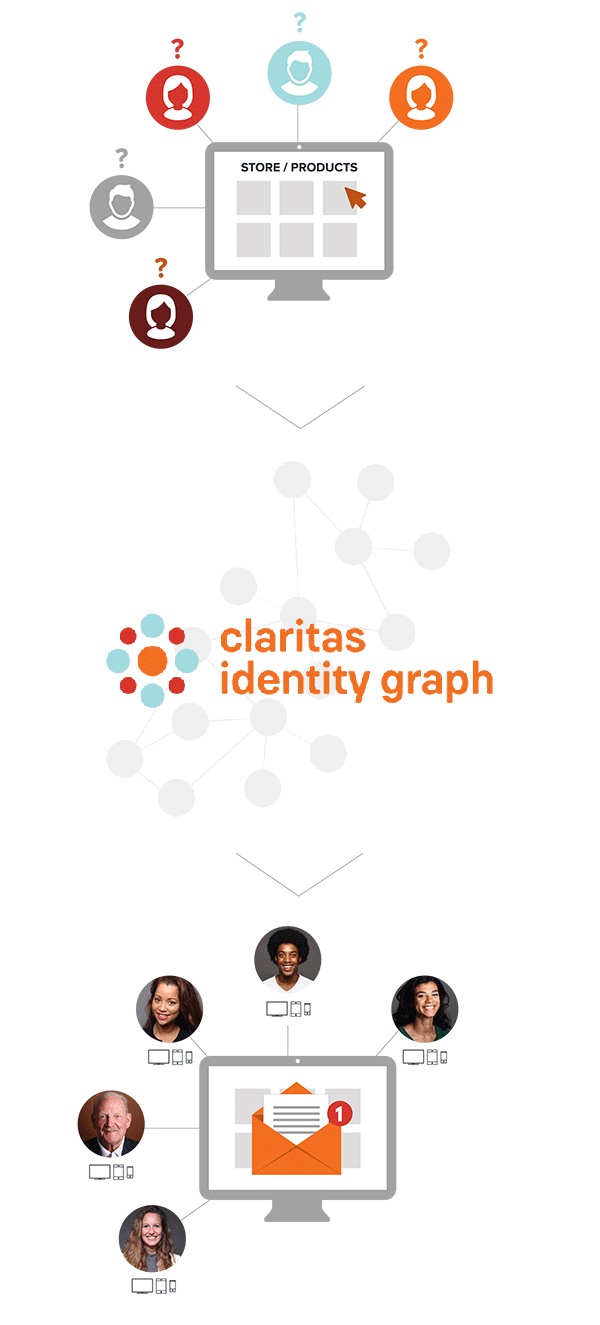 Reach Your Anonymous Visitors
If website visitors remain anonymous, you're missing opportunity. The Claritas Identity Graph can reveal these anonymous visitors and determine which have the most potential.
Access to AudienceAnywhere® Platform
License this robust technology to find more customers that look like your website visitors based on the attributes of your resolved website traffic.
Fit Visitors into Claritas Pre-Built Audiences
Already using our industry-leading segmentation models? You can quickly see which one of our audiences an anonymous visitor fits into and retarget the best ones.
Retarget Website Visitors
Our multichannel campaign execution solutions let you launch impactful retargeting campaigns with messaging that resonates with a website visitor's behaviors and interests.
Related Resource
Through leveraging the Claritas Identify Graph, anonymous website visitors were captured and segmented based on specific attributes and behaviors of the best in-market audiences to reach through email and social campaigns.
Read More