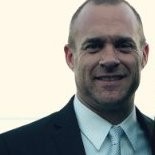 The right partner should help you identify what's working, and improve what isn't
Today's consumer has more channels and purchasing options than ever before. Understanding how these options influence and impact decision-making and ultimately conversion behavior is not only important, but critical for marketers.
Measuring ROI is one of the biggest challenges a marketer faces today. Less than 30% of marketers today are highly confident they can measure ROI, yet according to HubSpot, marketers that measure ROI are 1.6 times more likely to get higher budgets.
Why is measurement so important?
Understanding the return on marketing investments
With resources invested in a marketing campaign, it's critical to know the value of each investment on the business, from increases in brand awareness and consideration all the way through the funnel to incremental purchases.
Validate media plans
Making sure a media plan is running according to plan is the first step to evaluating its performance. Clients need to know if they're reaching the right audiences on quality inventory and if their ad servers are delivering the planned number of impressions.
Inform effective and efficient optimization
Not all audience, channels, and ad inventory are equal – some will almost always perform better than others. Knowing which audiences respond best and what channels and inventory drive the highest response are critical to optimizing media plans.
Choosing the right measurement partner
Marketers have an abundance of options when it comes to selecting the right partner(s) and tools to measure your campaign efforts. Like most things, not all are created equal so it's important to know what to look for.
Expertise
You need a partner with industry-leading data science experts and modelers. People who have spent years staying on top of new innovations in technology and have pushed the envelope in developing new solutions to accurately measure the ongoing and significant changes in the media environment. Claritas has a staff with unparalleled statistical expertise who have built ROI solutions for the world's largest advertisers and media companies over the past two decades.  For 40 years, Claritas' demographic and behavioral data has been the gold standard in marketing research. That expertise, along with our identity graph, provides the knowledge needed to project all media delivery, attribution, and incremental lift accurately so the results you see reflect what actually occurred. All of this ensures Claritas' approach is continuously evolving with the market and have stood the scrutiny of the most skeptical market researchers influencing the largest ad budgets
Methodology that accounts for various nuances
Today's consumer spends more time researching and transacting across multiple devices. Measuring the true ROI of marketing efforts is contingent upon the ability to tie both online and offline engagement and conversion behaviors to cross-channel exposures. You need a methodology that accounts and controls for the unique nuances of campaign effectiveness and includes weighting and projection to account for bias and coverage gaps. Claritas' approach is the only one in the market that can account for all major nuances, while delivering the most accurate, balanced and complete view of a campaign's impact on your business to drive the best possible business decisions. Our cross-environment identity graph that accurately resolves anonymous activity to a Claritas household, regardless of where its members are or what devices are used. That enables us to use the strongest link between media exposure and consumer action when available, or measure response across environments.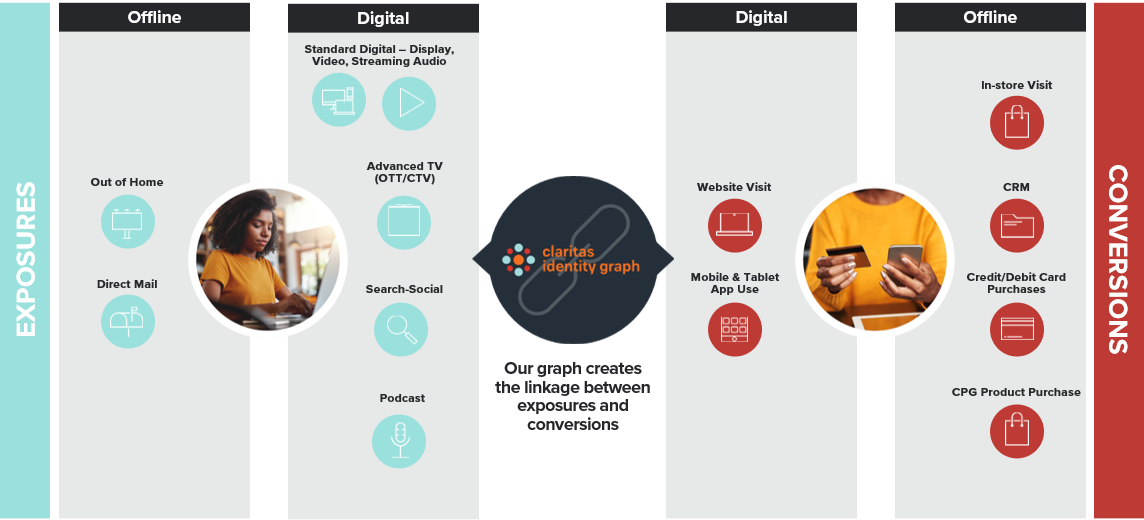 Claritas goes to great lengths to maintain its standard of quality. Data undergoes several processes between the point of activity and the results our clients see. At the point of collection, invalid traffic is assigned for removal. This is supplemented by 3rd party datasets to flag IPs we don't want to use: blacklisted, commercial, public, cell tower, etc. Households with outlying behaviors are determined for each campaign and removed from the analysis. Finally, all incremental lift analyses are tested for statistical significance at multiple levels, from 80% up to 95%.
Robust Identity Graph
It's essential that you work with a partner that has an accurate, proprietary, privacy-durable and multi-environment ID graph. A graph that ingests all critical demographic, behavioral and device usage data required to accurately connect campaign offline and online cross-device exposures to conversions, while enabling the most granular audience profiles of the consumers who are engaging.
The Claritas Identity Graph ingests are validated against a trust set to ensure accurate attribution across media types and offline/online channels while insulated from privacy changes… which delivers to you more accuracy, the ability to measure multiple channels in one view (not just one channel) and ensures stability and consistency of your norms and benchmarks over time.
Market Presence & Breadth of Capability
You need a partner who has not only the capability to measure your campaign effectiveness accurately and transparently, but one who can also help develop and execute effective strategies across the other critical areas of the marketing spectrum. Claritas is an established brand, has 1500 total customers working with 98 of the Top 100 advertisers in the US and used for a broad set of solutions leveraging our identity graph and over 10,000 demographic and behavior insights. This is what powers our spectrum of solutions from Identifying Target Audiences to Delivering multichannel campaigns to Optimizing Campaign Performance…which means Claritas provides a holistic set of solutions across media planning, buying/targeting and measurement.
The Bottom Line
The reality is that better marketing leads to both an enhanced customer experience and a superior ROI. Businesses can maximize their marketing potential by working with a partner who can help them find and engage their best customers through:
1:    Identifying which audiences have the highest likelihood of responding to a media campaign, based on in-market behaviors, household characteristics, and past preferences;
2:   Delivering a campaign that reaches those audiences through the right offline and online channels;
3:   Validating how well a campaign was executed relative to its media plan;
4:   Measuring the true effectiveness of the overall campaign using unique attribution and lift analysis methodology – including how specific aspects of the campaign like message, media channel and even media partner performed;
5:   Optimizing the campaign based on that analysis of its performance; and
6:   Calculating an accurate Return on Ad Spend.
To learn more about Claritas' suite of measurement solutions click here. If you'd like to speak to someone on our Optimize team who can address your specific needs, contact us here.