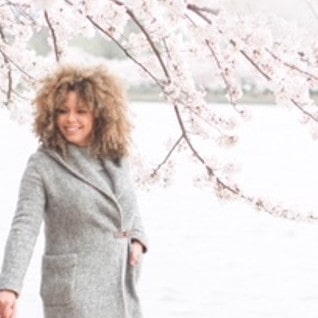 Hitting The Mark With Podcast Advertising
There are so many advertising channels for Financial Services marketers to take advantage of, meaning it can often be quite overwhelming trying to decide which mix is the right one for your institution. While it's almost always a good idea to focus on a multichannel strategy, there are a few individual channels that have found themselves providing enormous returns for advertisers in recent years, like podcasts.
You'll often hear podcast and digital audio used interchangeably, but no matter how you refer to this medium, the numbers don't lie. According to the IAB (Internet Advertising Bureau), podcast ad revenue hit a record $1.8 billion in 2022. This is leaps and bounds above all projections. According to the VP of IAB's Media Center, Eric John, podcasting is the #1 growth channel across all digital media. In fact, this is the second year in a row it has held that top slot. But what about the industry breakdown? Placing ads in podcasts sounds like a great idea (no pun intended) when you see numbers like that, but is it the right channel choice for the financial services industry, specifically?
TESTING CHANNELS
If you've not tested creatives via podcasts yet, this next stat might come as a shock. IAB's annual podcast ad revenue report showed financial services accounting for a healthy 14% of industry revenue last year – the largest industry category, outside of "other." Claritas also did an analysis a few years ago where we found the average CPC (cost per click) for a :10 financial services podcast ad was $3.33. How does that compare to other channels? Well, at the same time we did that analysis, we found these numbers:
CPMs of:
– Social media campaigns such as Facebook ads = $9.06
– Traditional radio spots = $12-$18
– TV ads in larger markets = $27-$34
– Direct mail = $300 or higher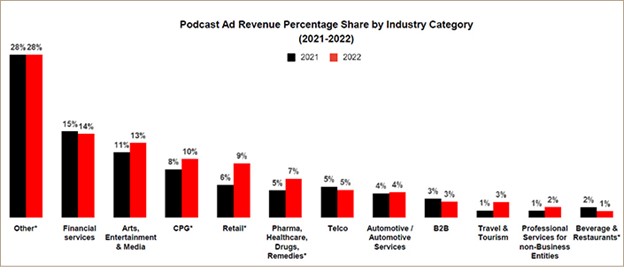 By now your ears have probably perked up but maybe you're still not persuaded. Are these some of the questions you have that are providing hesitation?
– How do I know who my ideal podcast listening audiences are?
– What kind of measurement options are now available?
– Do I have the budget to test this channel?
PODCAST AUDIENCE INSIGHTS
We've been leaders in the podcast measurement space for years. We've also partnered with the likes of Audacy, iHeart, SXM Media, and Amazon, but it wasn't until early 2023 that we started hearing at industry conferences how there was "no real audience insights solution for podcasts." No audience insights? But that's part of Claritas' core solution of offerings!
It turned out that most podcast networks, agencies, and publishers have a topline understanding of who listens to podcasts but do not have deep insights into who comprises their core audiences, so they can ensure they're bringing you, their clients, addressable audiences for smarter targeting. Since that revelation, we've been working tirelessly to showcase our data to the industry. Directly, we can also work with you, the individual advertiser to understand which of your core audience segments are podcast listeners to help in your evaluation of this channel.
While Edison Research says that 31% of Americans 12 and older have listened to a podcast in just the last week, you still have to follow what the data says about YOUR best customer or member prospects, and if it turns out none of your core or growth segments are podcast listeners, Claritas can still help you determine what channels they do interact with, so you can make the best budgeting decisions for your media plans.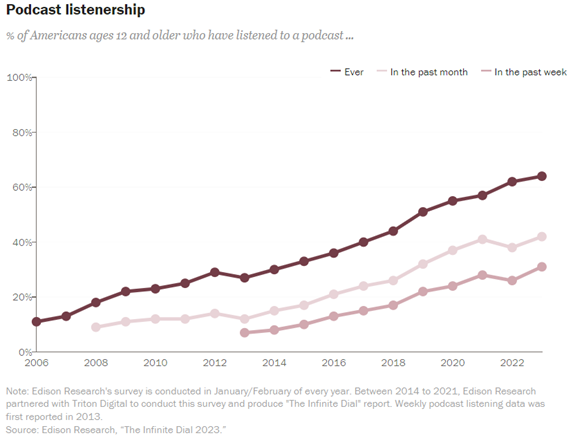 MEASUREMENT SOLUTIONS
Remember a few paragraphs ago where we said that Claritas has been a leader in the podcast measurement space for years? Not only do we have the case studies to back up that claim, like this one where we measured a 116% lift in conversions for a major credit card company, but we also have our own podcast with episodes dedicated to demystifying podcast measurement and sharing what we and others have determined to be the key metrics to pay attention to. If you're interested in taking a listen for yourself, we recommend this episode in particular. It features our Chief Product Officer who has been a driving force behind the innovations and growth we've seen with podcast marketing.
Wondering how it all works? We use a unique methodology fueled by the Claritas Identity Graph to accurately link podcast exposures to conversions. These insights give you visibility into how your campaign is performing and which specific components are driving that performance. What does that turn into? Continual optimization for more effective ROI. In addition to that already robust measurement methodology, we introduced a prefix URL, which has been approved by major hosting platforms, to provide us with the ability to help our clients track and measure the impact baked in ads (those read by the podcast host) have on contributing to conversions from podcast advertising.
Evaluating campaigns holistically is one thing. We're experts at that. You also need a measurement partner that can measure how your podcast advertising stacks up against other channels too. Claritas can help you there as well!
BUDGET CONSIDERATIONS
Ah, budget. This is something all marketers struggle with. There are so many channels to test, but often the budget doesn't stretch to accommodate them all. The good news is it doesn't need to. It needs to fit the right channels. If you've listened to our tips about audience identification and determined podcasts are a good fit for your advertising plan, then your justification should write itself, especially when you factor in the industry statistics we've shared about the ROI for financial services marketers who leverage podcast advertising.
How much should you budget though? That question is a little trickier to answer and will depend on several factors. This article, from Acast, has a great breakdown to help the numbers make more sense. If you choose Claritas as either your audience identification and/or measurement partner, we would be more than happy to connect you with our partners to talk more about your specific ad campaign delivery.
FINAL THOUGHTS
The key here for first-time advertisers is to do your research ahead of time. We hope we've given you a head start on that, but don't be afraid to test the waters. Besides, you don't need to invest 100% of your advertising budget into podcast ads right now. That said, you might find that whatever your current investment is, isn't the right number to see the maximum return and needs some adjusting. Either way, in addition to the unmatched products and solutions Claritas provides for clients, we also pride ourselves on the thought leadership we have available to help you make informed decisions. We encourage you to not only explore our website, but to also contact us to discuss your unique use cases or needs.